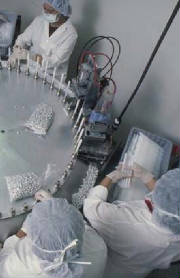 Enterprise Content Management (ECM)
Life sciences industry sectors including pharmaceutical, medical device and biotechnology companies are subject to strict regulations that dictate how, when, and under what circumstances electronic documents can be authored, updated, approved, published, and archived. In the race to market, regulated industries need to make compliance with regulations an integral part of their document management and control processes to reduce risk and gain competitive advantage by bringing new products to market faster.
Omega has chosen to partner with the Open Text Corporation (Open Text™) to provide Enterprise Content Management solutions. Open Text is the world's largest independent provider of Enterprise Content Management software. The Company's solutions manage information for all types of business, compliance, and industry requirements in the world's largest companies, government agencies, and professional service firms. Open Text supports approximately 46,000 customers and over 40 million users in 114 countries and 12 languages. For more information about Open Text, visit www.opentext.com .
Open Text is recognized as a leading provider of other content-centric applications such as Records Management, E-mail Management, Contract Management, and Archiving technology. Over half of the top 50 Pharmaceutical Companies use Open Text Archiving technologies.
Click Below to Download Livelink Overview Fliers: